HOPPS GROUP ENERGY POLICY
As a socially responsible company and a major player in the logistics sector, at the HOPPS Group we are well aware of the importance of the goals set up in the National Low-Carbon Strategy goals.


To support the approach undertaken by the Group's major brands, HOPPS has decided to take a series of commitments…
Energy Transition is an essential issue in Sustainable Development. Therefore, it will help to achieve the goals of France's National Low-Carbon Strategy and enable companies to get committed in an enduring way to ecological transition.
Mastering energy is a crucial axis for HOPPS Group and its Corporate Social Responsibility policy. 
This is why the HOPPS Group has decided to set up for its logistical activity a process of continuous improvement of its energy performance.
This approach, based on the ISO 50 001 standard for an "Energy Management System", aims at  better controlling the energy bill, and therefore the environmental footprint.
Obtaining certification and implementing the standard are Hopps Group's General Management priority objectives for its subsidiaries: Adrexo, Colis Privé & Dispéo.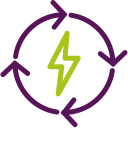 In this context, the group is making the following commitments:
Control its energy consumption

of significant sources of emissions

 

related

to buildings, I.T. and transport.
Continuously monitor and improve performance indicators and processes 

related

to energy. Goals and indicators will be assessed and updated 

annually.

Obtain the

certification in 2021/22 for

its subsidiaries: Adrexo, Colis Privé & Dispéo.

Reduce our

energy consumption,

thus reducing

greenhouse gas emissions by implementing a low-carbon action plan.
Take into account energy performance criteria in the Group's purchasing processes.

Implement

alternative

distribution and delivery solutions

with 

lesser

ecological impact.

Pay attention

to stakeholders,

particularly on performance energy investments that allow energy savings.

Make all Group's employees

and sub-contractors

committed

to sustainable development by promoting environmentally friendly

best

practices.
Respect and anticipate

legal and regulatory requirements in force.
The Group management is committed to being a driving force in this project. The Management is committed to ensuring that information will be made available, and all the necessary means and resources will be on hand to achieve our energy policy goals.
THE MANAGING DIRECTOR