STRENGTHS
AUTOMATED SOLUTIONS :
FORCES
AUTOMATED SOLUTIONS :
Dispeo manually processes articles, especially for anything " custom-made ". On the other hand, we make it a point of pride to further develop mechanization in order to go even faster, and further with you. Are you in need of speed so that your products are more quickly integrated into stock? Do you also need your products to be shipped faster? Today, robots and machines allow us to improve output and increase productivity as well as ensure impeccable quality.
Here are some of the tools that Dispeo can offer you depending on your products and needs :


Mini loads utilisés à ce jour spécifiquement pour le stockage automatique de produits de différentes tailles et poids.
Dispeo is equipped with sortersthat allow a large number of orders to be processed simultaneously, especially for textiles, footwear, and high-tech products
X BELT, for wide assortments, with a low stock depth, for cosmetics and wellness; food, high-tech, and leisure
Dispeo also has innovative and high-performance processes :


Goods to man goods to man solutions allow goods to be brought to the operator and not the other way around. Goods are made available in the desired area, so that operators can scan them and finalize order picking in an optimized and time-saving manner with fewer picking errors. Of course, at Dispeo we use these goods to man for textile, footwear, cosmetics & wellness, food (and pet food), high-tech, and leisure.
Pick/ pull to light : computer-assisted order picking, which guides the operator in charge of picking products in the storage aisles, with the help of a light that lights up where the product that needs to be picked is located. These pick/pull to light solutions are used in the textile, food, pet food and leisure industries.
Packing : this refers to the entire process of packing and packaging a product. At Dispeo we have machines that allow this kind of packing in the fashion, cosmetics, food, high-tech, and leisure industries.
INFORMATION SYSTEMS
IT is one of Dispeo's major strengths and is at the center of our know-how. How do we have it integrated? How do we operate?
Beforehand, the entry point between a customer and Dispeo happens through a file, either transmitted via API or EDI. The interface is then created via the customer's extranet. Dispeo will then either run through its WMS or its TMS. The WMS that we currently use is MANHATTAN 2018, which is renowned worldwide in terms of WMS. Dispeo also has expertise in these different warehouse management systems.
Our in-house developed TMS allows us to be permanently connected with our 80 carriers. WMS and TMS are the keys to successfully integrating orders into our information system. These 2 different technologies allow us to save time, gain in productivity, and ultimately benefit YOUR customers. Dispeo has its in-house IT teams for development and for infrastructure with over 30 passionate IT technicians.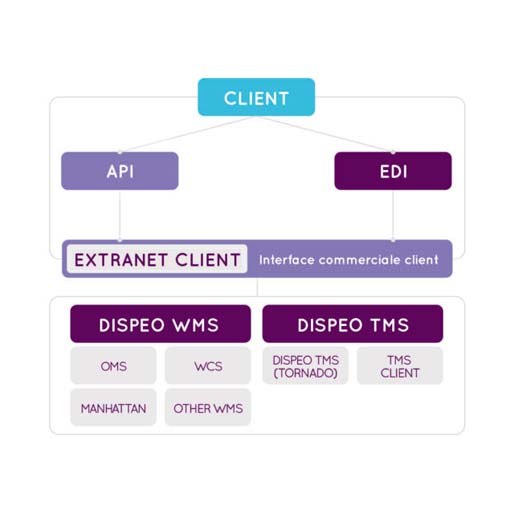 RETURNS MANAGEMENT AND QUALITY CONTROL :
Dispeo's returns management is very much linked to its historical know-how and is one of its main strengths.
At every stage of our partnership, Dispeo's strength lies in the follow-up and agility we demonstrate when supporting you in your logistics needs. Once the LOI has been signed, the project is carried out with a very thorough start-up and continued follow-up. Dispeo measures the quality of service and reports it back to you in the form of KPIs, dashboards, and feedback.